Never underestimate the value of a small gesture. Catching people doing something right is a powerful concept! It's a great way to build trust, rapport, and reinforce positive behaviors. A few specific kind words don't take long to deliver and they make a lasting positive impact!
Kane Learning developed a series of Kudos Cards. These business card sized gems are perfect to put in your purse, bag and desk drawer as a reminder to give thanks to those around us. Make people feel good by sharing praise for a job well done or highlighting their contribution. Our kudos cards are designed to make it easy for you to brighten someone's day. Enjoy!
Kudos Cards ~ For Texting
Want to send more than just a plain old text? Why not send a kudos gif! On your mobile device, hold your finger on the image of the card you want to send, download the image to your phone and send as an attachment!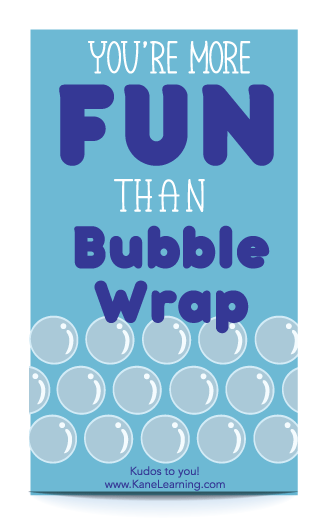 For those times when you're not face to face and you still want to express your thanks, use our Virtual Kudos Cards. From your computer, simply click on the cards below, download the fillable pdf, write your message, and send as an email attachment!
After the seeing the success and smilling faces after one receives a Kudos Card, we decided to create a Kudos Notecard, when what you have to say doesn't quite fit on the travel sized cards. Contact us if you would like a set!